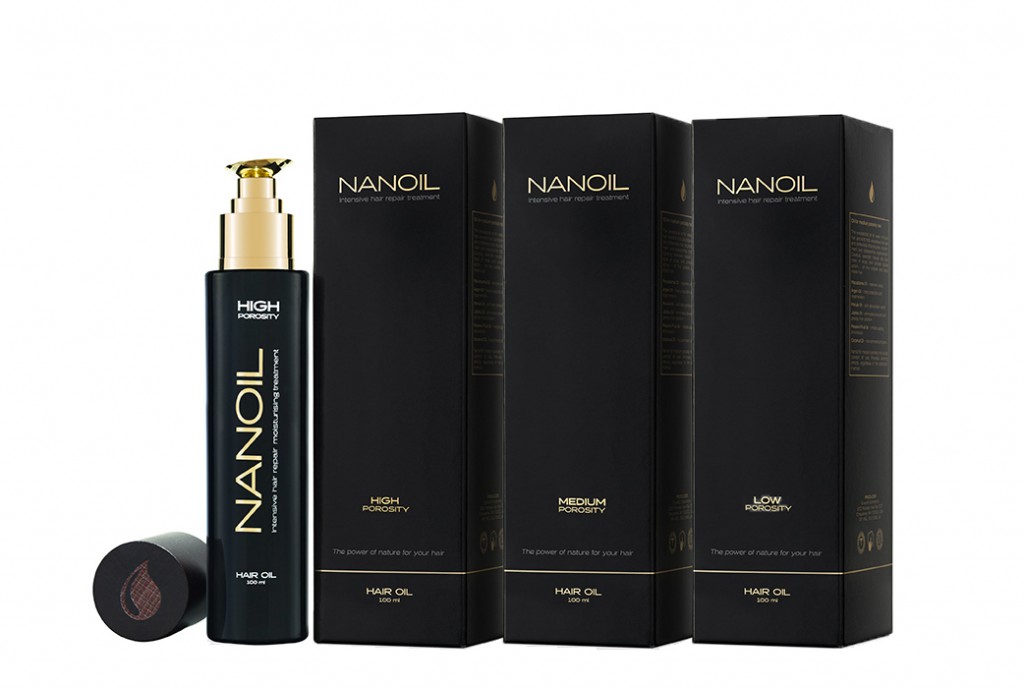 How does it work?
There are three hair oils, each of them of a little bit different features. Despite having various characteristics, these are connected with the precisely designed composition which matches a particular hair type; and this is what makes the products so effective. Moreover, the oils work in all hair parts delivering the valuable substances to the inner and outer structures of hair. If you choose Nanoil hair oil, you can expect deep action instead of only the superficial hair look improvement as it is typical for other similar hair cosmetics.
Nanoil is the product that reaches the inside of hair, improves strands' condition, coats them with a protective layer and strengthens from the roots to the ends.
Nanoil For Low Porosity Hair:
speeds up hair drying, no matter if hair is dried by air or by a blow-dryer,
regulates work of sebaceous glands and prevents hair roots from getting greasy,
protects hair against the damaging action of the sun and high/low temperatures,
eases styling and combing of hair,
strengthens hair bulbs by stimulating faster growth of strands.
Nanoil For Medium Porosity Hair:
counteracts frizz, static and brittleness of hair,
controls the level of moisture and nourishment of the scalp and hair,
adds shine, softness, elasticity and vitality,
prevents greasy scalp and delivers moisture to the hair ends,
counteracts excessive water loss and accelerates hair growth.
Nanoil For High Porosity Hair:
regenerates damaged keratin structures of hair and strengthens the strands,
prevents frizz, brittleness and split ends,
provides hair with silky smoothness, shine, and elasticity,
accelerates hair growth and prevents excessive hair loss,
closes hair cuticles and reinforces the hydro-lipid barrier.
What is in the composition?
There is no other hair oil of such well-composed formula as Nanoil. In this case, a piece of nature was closed in an impressively elegant package. Regardless of the version, Nanoil is super light, smells beautiful and is absorbed by hair without any obstacles. In spite of being based on natural oils that contain quite a quantity of fatty acids, it takes super fast for strands to infuse the oil deep inside of them. Moreover, any version of Nanoil contains neither silicones nor parabens, yet the action of the vegetable oils is brought out thanks to additional substances. The oils are composed in such a way to deliver the complex care to hair of various needs. In short, the list of ingredients is as follows:
Nanoil For Low Porosity Hair is made from nine natural oils, vitamins (tocopherol, retinol and panthenol), UV filter and substances responsible for accelerating hair growth and preventing excessive hair loss.
Nanoil For Medium Porosity Hair is made from six natural oils, vitamins (tocopherol, retinol), UV filter, substances accelerating hair growth and halting excessive hair loss, silk.
Nanoil For High Porosity Hair is made from six natural oils, vitamins (tocopherol, panthenol), keratin, silk, lanoline and substances responsible for accelerating hair growth and halting excessive hair loss.
Do you need more details? All information concerning Nanoil hair oils, their additional substances along with their features, can be found on the official product's web page.
What is the performance assessment?
Women love Nanoil hair oil for being super effective and very gentle to hair. This means that the oils are non-overburdening, they neither leave hair greasy, nor clump it. Instead, they act deep and deliver profound results. Such an action is possible due to matching oils with the hair porosity types, which helps the oil be absorbed so fast. The substances of the quickest absorption rate is the secret of the product's effectivity. A small portion of Nanoil is enough to cover hair with a velvet coat as well as to take care of its inner regeneration. This natural feature makes Nanoil hair oil perfect for being applied directly to the scalp during the oil hair treatment procedure since the oil's action isn't comedogenic. Nanoil coats hair with an aroma of the natural freshness which lingers on strands for a few hours.
All the oils from the series can be used in the same way, which means that they can be applied at will. These are products perfect for oil hair and scalp treatment. Thanks to their naturalness, we have an almost indefinite number of application methods at our disposal. For that reason, Nanoil is good for:
performing wet or dry oil hair treatment,
leaving the product overnight, applying it an hour or just a few minutes before shampooing,
using it before or after hair shampooing,
being used as a preparation facilitating hair styling,
fixing the outcomes and adding shine to hair,
hot oil hair treatment or for putting hair in a bowl with water and oil,
being an additive mixed with other hair cosmetics,
making your hair easier to comb during a day.
ADVANTAGES: maximum effectivity, perfectly matching with hair porosity types, delicate fragrance, impressive efficiency, a very elegant package, diversity of application, works on hair and the scalp, the very light formula, the complex of additional substances, the paraben-free and silicon-free composition
DISADVANTAGES: a heavy bottle that is easy to get dirty