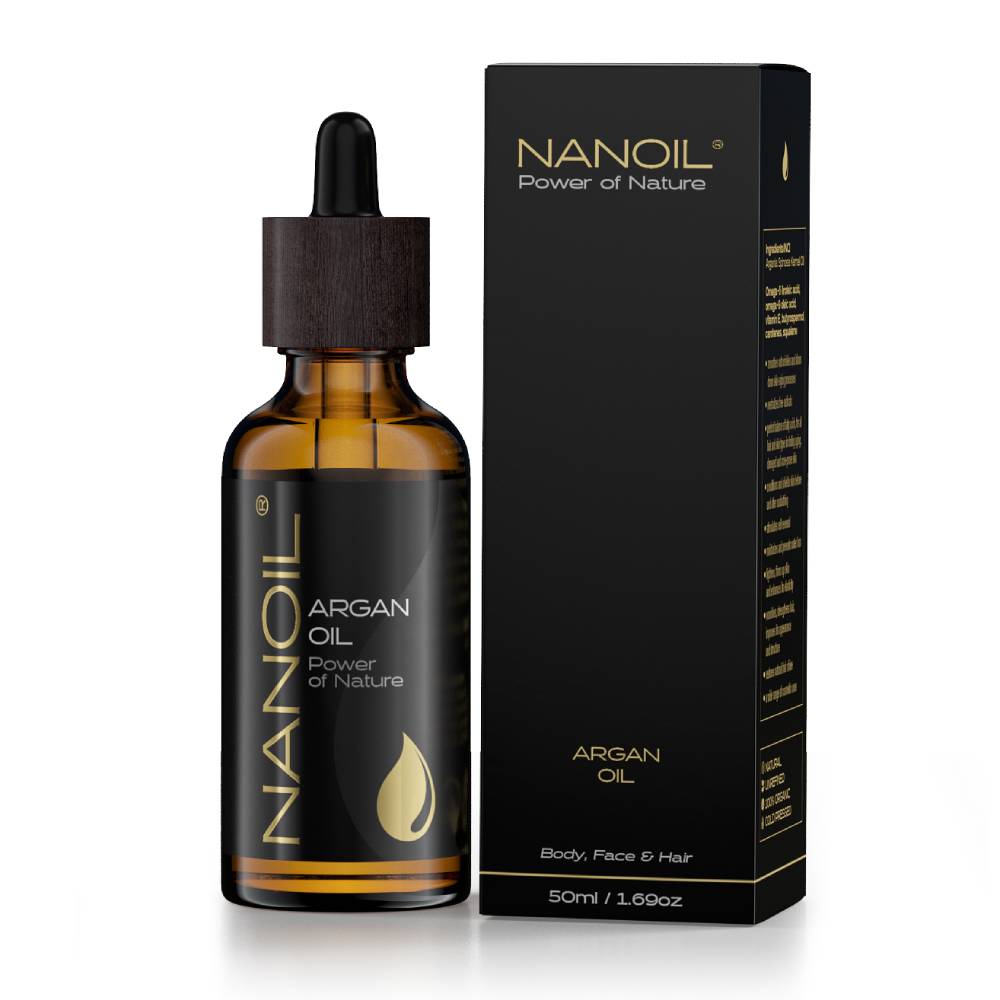 How it works?
Argan Oil by Nanoil equals full rejuvenating, protecting and repairing power for hair as well as skin and nails. This oil is pure essence of what's the most precious in organic Argania nuts. It is a multi-functional treatment which upgrades the looks of hair and skin in just 30 days. Argan Nanoil is unrefined and cold-pressed so it's a top-quality product having high concentrations of vitamins and other active ingredients.
This oil works inside skin and hair as well as on the surface because, apart from repair, it gives protection against outside elements.
Nanoil Argan Oil Treatment:
repairs over-processed hair structures
delivers vitamin-based repair and nutrient boost
houses lots of antioxidants
protects from free radicals
stops hair loss and stimulates growth
makes hair softer, luminous and smooth
makes brushing easier and prevents static flyaways
keeps hair ends healthy
acts as perfect therapy for body, face, nails and under-eye skin
What's inside?
Nanoil Argan Oil conceals over 100 active substances which improve the state of hair and skin. The essential ingredients include:
EFAs (essential unsaturated fatty acids); their proportions make argan oil suitable for all skin types and almost every hair type
plant sterols (phytosterols) – important ingredient in skin's cell membrane, enhances synthesis of collagen and elastin, prevents wrinkles
flavonoids – brilliant antioxidants which keep aging at bay and have positive on skin and hair
vitamin E – antiaging defender of skin
squalane – makes up skin's protective lipid coat, stimulates cellular growth, has amazing hair-conditioning effect
How it's rated?
One of the best oils for beauty purposes, popular worldwide. Nanoil Argan Oil gets rave reviews because it's one of the purest argan oils: clear oil without any additives or synthetics and fragrances; it's been awarded Ecocert mark instead. Moreover, argan oil is all-purpose, namely it lets you enhance the beauty of both hair and skin. Remedy for sagging, dry skin, first facial lines, cellulite and acne.
BENEFITS: effectiveness, 100% organic argan oil, highest quality, lack of alcohols and synthetics, variety of uses, amazing effect, accelerates hair growth and stops thinning, smoothes fine lines, adds elasticity, protects against damage, has good price
DOWNSIDES: glass bottle might break