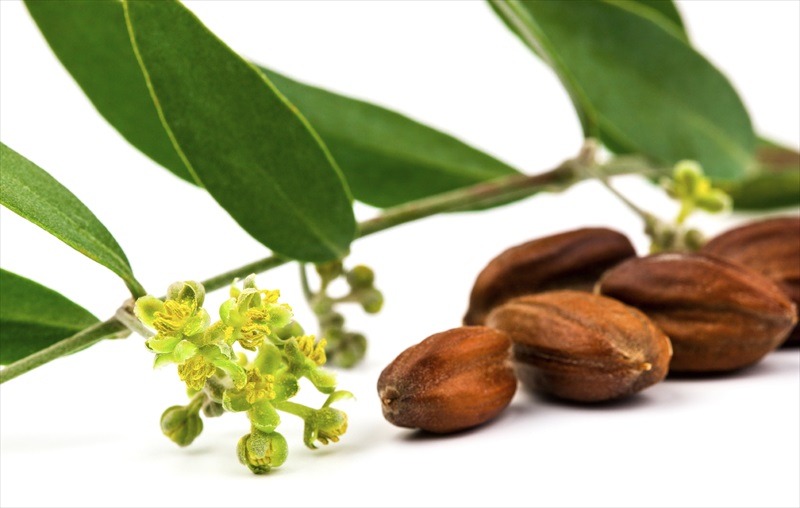 Jojoba oil is really surprising – even the term "oil" in his case can be a bit misleading because it really has more to do with wax, but it comes in a liquid form. It's an amazing substance with a light consistency that does not go rancid and has an indefinite shelf life. In comparison to all other oils, it can be distinguished by the fact that it contains an unusual substance, very important in the care of hair and skin: squalene. How will this liquid wax with unusual composition work for hair?
Jojoba oil INCI: Simmondsia Chinensis Seed Oil
Jojoba oil is extracted from the seeds of the Simmondsia Chinensis shrub – which is an unusual, very durable plant that lives up to 200 years. It is cold-pressed to keep the maximum concentration of valuable ingredients (fatty acids, phytosterols, vitamins and squalene). It is worth mentioning that the seeds of this plant growing in the desert areas of Argentina concentrate their strength and the most valuable ingredients just in seeds. They are composed of 50% fatty acids, and the oil (wax) pressed out of them is delicate and has a subtle, slightly nutty scent. The oil reveals its "true face" already at -7 degrees Celsius: then it becomes gel-like and wax crystals appear in it.
Jojoba oil & its beauty benefits
Jojoba is a very "intelligent" oil – it amazes that it adapts precisely to the skin type, and the squalane contained in it moisturizes and improves the condition of dry skin, or balances the level of sebum secretion with oily and combination skin. This makes jojoba oil a cosmetic with valuable properties. Jojoba oil also accelerates the healing of wounds, lightly moisturises and nourishes the skin. Phytosterols take care of the proper synthesis of collagen and at the same time limit the breakdown of elastin. Squalene contained in jojoba oil also supports the treatment of acne scars and treats emerging pimples and any inflammation.
Nanoil Jojoba Oil – best nail, skin & hair care product

100% organic, unrefined, cold-pressed – this is what pure beauty jojoba oil by Nanoil is like; the Ecocert label shows its quality. You won't feel like getting rid of this marvelous cosmetic once you discover its various uses and brilliant effect.

Nanoil Jojoba Oil is a source of essential fatty acids (EFAs), plant sterols, antiaging squalane which improves and enhances skin's function, and rejuvenating vitamin E. Thanks to that, Nanoil Jojoba Oil:

pampers all skin types; balances sebum secretion and reduces oiliness, moisturizes and locks in water
nourishes, smoothes and protects skin and hair
repairs, purifies and conditions skin, fights dryness
prevents hair from falling out
balances levels of pH and moisture in skin
protects against free radicals, keeping hair and skin healthy
makes hair follicles work more effectively, strengthens and speeds up growth
regulates production of oil (reduces oily hair)
conditions hands, feet and nails as well as under-eye skin

How to choose the best jojoba oil? Check if it's pure, without any additives and silicones, unrefined, cold-pressed. The product of top quality and great reviews? It's Nanoil Jojoba Oil – learn the must-know here www.nanoil.us/jojoba-oil
What's jojoba oil's effect on hair?
Jojoba oil is very effective when it comes to dealing with dandruff (both its dry and wet variety), it protects hair from damage, perfectly polishes and creates a protective film on the strands, which prevents toxins from penetrating the hair. What's more, it perfectly cleanses the scalp, unblocks hair bulbs and stimulates them to work, thanks to which hair growth accelerates. The strands grow thick, shiny and strong, they stop breaking and are easier to comb. Jojoba oil gently polishes and combats the dullness of hair, prevents static and regulates the degree of hydration. The substance improves the work of the hair follicles, prevents excessive oiliness of the hair and ensures the proper degree of hydration of the scalp. This is an extremely multi-functional oil, because it will serve both people with greasy and dry hair. For this reason, it is ideal for hair with any porosity (low, medium and high).
Jojoba oil has been made famous by hair lovers, bloggers and vloggers. It collects great reviews online, mainly as a face serum to support acne treatment. It is recommended to use it together with other natural oils – it is ideal as an ingredient in hair care products – it doesn't only nourish, but also prolongs the durability of the whole product and all the oils it contains.