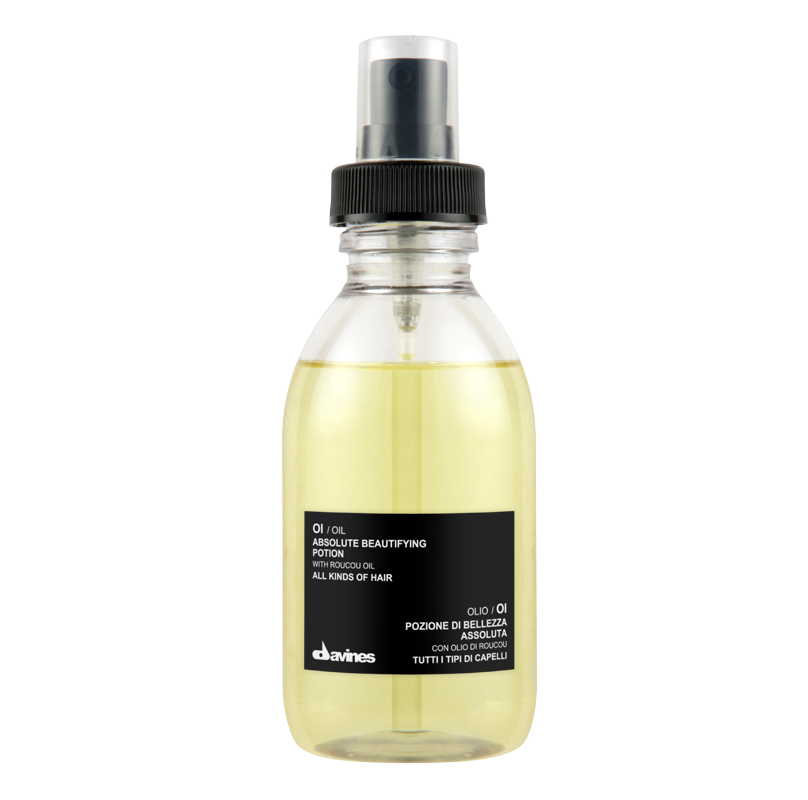 How does it work?
OI/OIL is an universal oil form Essential Haircare series by Davines which combines caring features. OI/OIL Absolute Beautifying Potion is based on ancient harmony of exotic rituals and hair care traditions.
This universal elixir for hair by Davines is eco-friendly.
Davines Essential Haircare OI/OIL Absolute Beautifying Potion:
gifts hair with smoothness,
 restores healthy radiance to hair,
tames unruly hair,
protects scalp and hair.
What is in the composition?
Eco-friendly OI/OIL Absolute Beautifying Potion is a completely natural product. Its positive action is confirmed by many consumers. The secret of OI/OIL is a combination of three oils:
roucou oil (annatto oil) from Amazonian Bixa Orellana tree,
buriti oil extracted from palm trees,
sunflower oil rich in E vitamin.
What is the performance assessment?
The truth is, OI/OIL has oily consistency that is not exceptional nor stands out from the other similar products' formula. Application of the cosmetic does not cause greater problems because the oil is not too runny. The consumers mostly like the pleasant scent and not-weighting-down formula. Even frequent application of the oil does not make hair greasy although some people stated that they noticed split ends during Davines Essential Haircare OI/OIL treatment.
Davines Absolute Beautifying Potion can be applied two ways – the producer recommends applying the oil before styling (on wet or dry hair) to ease composing hairdos or to use OI/OIL as a finish. Regardless of the method applied, Essential Haircare OI/OIL is a very efficient care preparation which is consumed within six months of intensive use.
ADVANTAGES: effectiveness, eco-friendly formula, natural composition, efficiency, paraben-free
DISADVANTAGES: risk of split ends