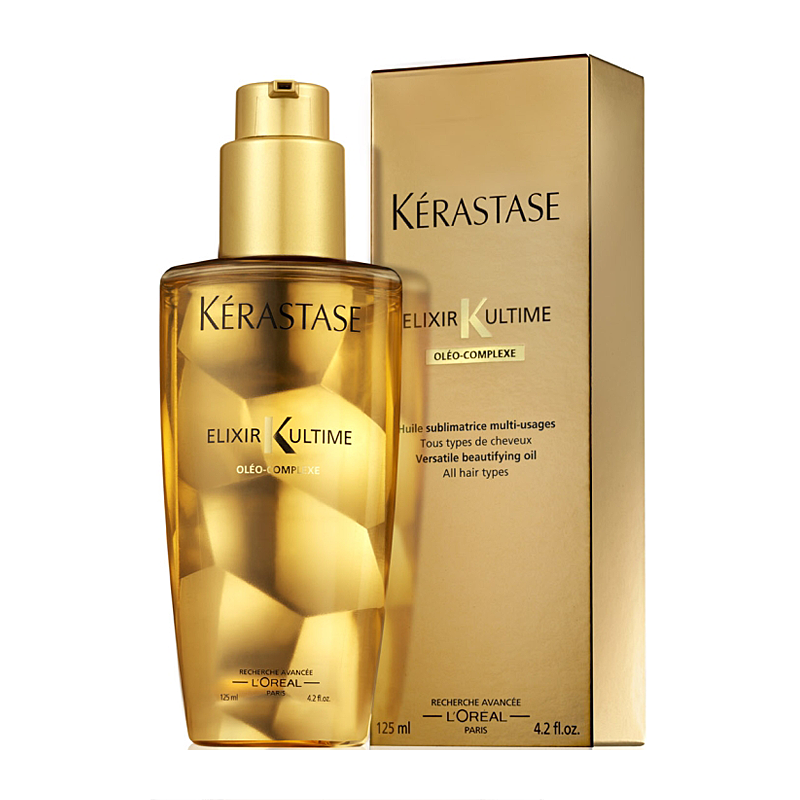 How does it work?
Hair Elixir by Kérastase is a universal combination of four plant oils rich in vitamins, minerals, fatty acids and other nourishing substances.
Most of the consumers claim that they noticed positive influence of Kérastase Elixir Ultime Oléo-Complexe in the first weeks of application.
Elixir Ultime Oléo-Complexe by Kérastase:
gifts hair with healthy shine,
softens and provides hair with silky smoothness,
provides appropriate level of moisture,
nourishes hair structure deeply,
protects from damaging factors.
What is in the composition?
Luxurious cocktail of exotic oils by Kérastase – Elixir Ultime for all hair types is a combination of four natural oils of Oléo-Complexe formula. This complex used for hair care is a mixture of active substances coming from various regions of the world:
nourishing corn oil extracted from plants growing in Central America,
protective argan oil extracted from Argania spinosa – a tree that grows in some regions of North America,
strengthening pracaxi oil collected form Amazonian regions,
smoothing Camellia oil, also known as tea tree oil.
What is the performance assessment?
Kérastase Elixir Ultime Oléo-Complexe is a runny oil. Small amount of the cosmetic is enough to add softness and gloss to hair. In spite of its delicate formula, hair may get flat if too much of the product is put on the strands. The universality of the product enables using it on dry or wet hair, before or after shampooing or styling. What is more, the product can be added to a regular hair conditioner to enhance its action.
Application of Elixir Ultime by Kérastase is not troublesome. Actually, it is enlivened by the fragrance that can be associated with luxurious cosmetics – it is exquisite and pleasant. Moreover, it holds on hair long. Owning to the precise dropper and intensive formula, the product is very efficient. The only drawback of the cosmetic to mention, is that the product has to be used up within 18 months since opened. According to the consumers, is almost impossible to use up the product before the best-before date because of such high efficiency of the cosmetic.
ADVANTAGES: effectiveness, natural composition, high efficiency, elegant package, long-lasting flavour, plenty ways of application
DISADVANTAGES: short period of consumption, risk of adding unnecessary weight to hair