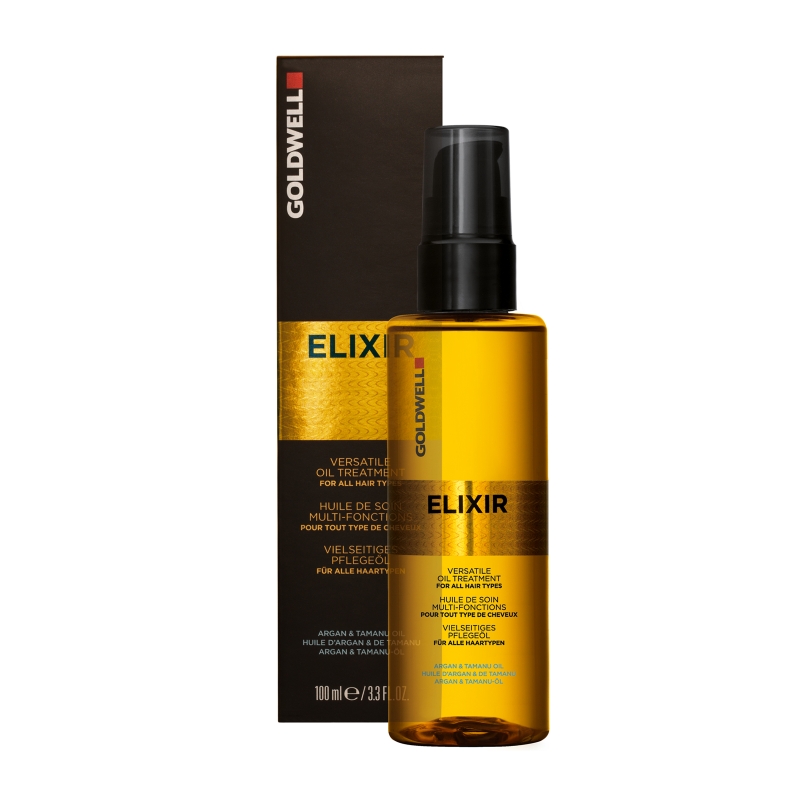 How does it work?
Goldwell is a brand that has launched another hair oil cosmetic full of vitamins and minerals. Goldwell Elixir is a versatile product that can be used as a serum for all hair types.
Its efficiency is confirmed by positive comments of consumers because, in most cases, its action produces the looked-for effects.
Goldwell Elixir:
has hair regenerating action,
nourishes hair structure from the inside,
provides appropriate moisture,
 protects against harmful UV radiation,
gifts hair with gloss and defines hair colour,
smooths and provides softness,
makes combing easier.
What is in the composition?
Goldwell Elixir is a formula full of vitamins and nourishing substances of plant extracts that works regenerating and protecting. Unfortunately, the consumers complain that the composition contains silicones. However, it is worth noticing that the product also includes natural extracts that are enriched with E vitamin and UV filter:
argan oil of Moroccan tree that has plenty of features,
tamanu oil (also known as bora bora or kamni oil) extracted from Polynesian tree fruits.
What is the performance assessment?
Goldwell Elixir is a liquid oil which is absorbed well and does not leave oily layer on the strands. The product does not weight hair down, does not clump strands and does not leave scalp greasy. Most people notice positive effects of Goldwell application after the first use. The product has delicate fragrance which stays on hair for several hours after application.
On the official homepage of the product, the producer states that the elixir's capacity (100 ml) should be enough to conduct 85 applications. The consumers confirm that the efficiency of the cosmetic is high, however, there are other products of the same capacity that are more efficient. Goldwell Elixis does not have to be rinsed off and it can be used in two different ways – on wet hair (to make combing easier and to provide protection while styling) or on dry hair (to add healthy shine and to avoid frizz).
ADVANTAGES: effectiveness, natural ingredients, light formula, useful package, delicate fragrance
DISADVANTAGES: silicone, medium efficiency